From late November to late March, hundreds of Humpback whales migrate down from the cold waters of the North Pacific Ocean to our less cold waters.
They enter Banderas Bay to mate, breed and nurse. How about seeing 40 tons of animal weight out of the water, a group of males competing for a female, or a lovely mommy with her playful baby? We never know what we'll get, but we guarantee you'll see whales.
The incredible cetaceans will thrill you with their acrobatics and behavior displays. We care about the whales and their environment, so our guide Thalia is a cetacean specialist!
We meet at Marina Vallarta daily at 8:50 am, to depart no later than 9:00am. We honor everybody's time, and respect our departure time. On this great adventure, Thalia will guide you for 4 hours, initiating with a brief educational lecture on marine environment and whales (on board the boat), follow by whale watching activity with as much information as you need to have. Remember that this is a nature based tour, so the animals can show up anytime and anywhere. During our 4 hour boat ride, we will encounter different whales and see their behavior. Birds, dolphins, turtles, manta ray and many types of fish also live in the bay, so have your eyes wide open and cameras ready! And don't be shy, ask as many questions as you want.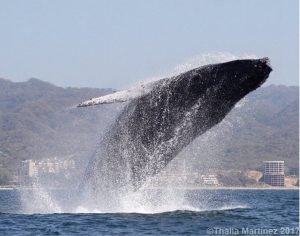 Around 12:00 the boat becomes a 360° ocean and whale view deli restaurant! We will offer a good hand-made lunch. Thalia's special treat! This is a fresh turkey breast sandwich with cheese, lettuce and tomato. We also have fruit and cookies, and soft beverages. On our way back enjoy the breeze, the sun and the city view from the ocean.
Join us to meet these amazing and graceful giants, become our and their guest as a responsible whale watcher! Tours available in Spanish, English, and French.
Departure times: 9:00 or 14:00
Duration: 4 hours
Cost:
Shared tour: 95 usd ADULT, 75 usd minor (5 to 11 years old)
Private tour: 530 usd per boat, up to 6 guests / 630 usd per boat, up to 10 guests

Included: certified tour guide (bilingual)/ Snorkeling gear lending / soft beverages /snacks and lunch

Not included: personal expenses and transportation by land, gratuities
Note: the shared tour requires a minimum of 5 guests (adult price) to guarantee the departure. If this is not met, those clients having a reservation will be entitled to request a refund or reschedule the activity.
Guides and boats are subject to availability, therefore a particular guide or boat is not guaranteed.
Book your tour now:
Whale Watch Puerto Vallarta – Shared Tour
Whale watching- private tour (max 6 guests)
Whale watching- Private tour (7 to 10 guests)
Shared Tour's reviews
Private Tour's reviews (up 6 guest)
Private Tour's reviews (7 to 10 guest)