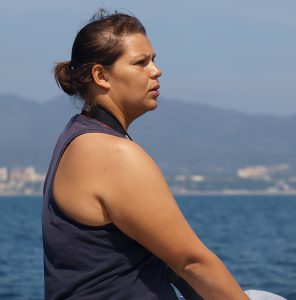 Thalia Martinez- Founder/guide
Thalia is a marine biologist with a Master's degree in Marine Ecology and specialized research in marine mammal's behavior. Ever since she started studying, she has worked as part of different national and international organizations, and universities.
It's hard to have her sitting still, since she is always looking for things to do, and things to learn. She speaks 3 languages fluently (Spanish, English and French), and is getting back on her Italian and German, plus trying to add Chinese and ASL…some would say she speaks cetacean, as she is also known as the whale and dolphin whisperer among friends.
In 2009, she was "captured" by the tourism industry, and she fell in love with it! Ever since, ecotourism has become her modus vivendi. She strongly believes that ecotourism is the best way to educate people and create environmental awareness. She is part of the Association "Bahia Unida" as a certified environment vigilante by PROFEPA, she is active member of the data gathering team of the Association "Ecología y Conservación de Ballena Jorobada AC" (ECOBAC), and is privately doing research on fighting behavior on humpbacks.
Thalia is also an avid traveler having been in the USA, Canada, Costa Rica, Cuba and different countries in Europe. Being an amateur photographer, she loves sharing her experiences through videos and pictures. Being a dedicated biologist, Thalia is always giving a helping hand to promote conservation through environmental education with workshops and lectures, writing articles and more. Either by land or by water, she'll make sure you have a great tour!
Ángel Barbosa- The Captain

Welcome aboard!
At Vallarta Natours we have a new member of the team!
He is Captain Barbosa and we invite you to know a little about him:
I was born in Guadalajara Jalisco, I moved to Puerto Vallarta in 1987, so I have seen all the changes in this beautiful port since then. Little by little I was entering the marine world, first as a sailor for 5 years and then as a captain, a rank that I have held for 15 years, and I love it.
I enjoy sharing with my family, playing with my son, walking along the boardwalk and swimming.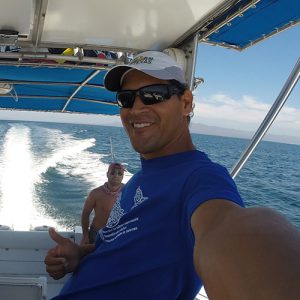 Ramón Guerrero Campos- safety responsible
Originally from Veracruz, Veracruz.  Ramón has worked by the ocean most of his life. As he was a young kid, he fell in love with the ocean, and skipped school (despite his mom) to go to the beach, and have a swim. He then learned to be a lifeguard, by following the steps of other friends- Little by little, he learned to be patient and "to hear and read" the Ocean.
He started training with lifeguards in Veracruz, and was rapidly accepted as one of the strongest swimmers. He was then introduced into lifesaving: first responder, lifeguard and paramedic. And of course he was welcomed, with open arms into that area; it came to be something natural! He also ventured into the firefighters department, and learned how to operate under hot pressure, but decided that the water was more of his element rather than fire, and returned to be by the ocean. He later became certified by the United States Lifesaving Association (USLA), as an internationally trained lifeguard.
A few years later we moved to Vallarta, and easily found a position as a lifeguard with the Firefighter county department, where he's been working since 2010. He has taken many courses (FA, CPR, DEA, Search and rescue … and more), and is a certified water rescue instructor by the same USLA in the USA and the "Universidad de la Coruña" in Spain. He is the one in charge of making sure that we all know what to do, in case of an emergency. And that all of us are properly trained and ready if anything should occur.
Cristina Garrigos – Guide
Lover of dolphins, mangroves, crocodiles and nature in general. Lucky to live in a heavenly bay.
In 2012 I met the ANP Estero el Salado and was amazed by the great biodiversity it houses. Although I had had a happy career in the administrative area, in 2015 I was called to guide the commercial tours and I did not hesitate at all, I left the office, the heels and the comfort of the A / C to live with the wonderful and imposing crocodiles.
In the same 2015, I joined a professional group of biologists, as a whale watching guide and data collection for FIBB catalog, release of turtles, birds, kayak, paddle board, walk, snorkeling and swim with dolphins in freedom, the which is my favorite!
I am adaptable, patient and spontaneous! I love learning from children and older adults, showing them in a simple and respectful way, how wonderful some species are; birds, plants, fish! I enjoy helping others and I love excellent customer service!
It is a pleasure to join the Natours team!!
Víctor Martínez- Overnight tours guide
I lived in Mexico City until the age of 5 when my family moved to the French part of Canada.
In Montreal I discovered snow, befriended a beautiful white squirrel and got my first taste of school. After two years, my parents were fed up with the cold weather and moved us back to warm and sunny Mexico.
I was fortunate enough to go to a private school where I learned English, French and got in touch with several of my passions: reading, traveling, movies and rugby. Ever since, I try to read at least a book per month, try to travel outside my country once each year, have been playing rugby for a very long time, went to film school and worked in the Mexican Film system.
When the opportunity to become a guide was presented to me, I took it and haven't looked back since. I have travelled through most of Mexico and enjoy, very much, the awe and wonder this country is capable of and would like nothing more than to help replicate that sentiment in whoever is with me discovering it at the time.
Passions: I used to skip school to go to the movies across the street with a fellow cinephile. After the show, I remember going back to school with the smug demeanor of having accomplished a rebel act and quenched a thirst for moving pictures. I pursued my passion, went to film school and acquired a vast trivia of movie knowledge.
Julio Morales – Guide
Meet our specialist Julio Morales, our newest member of a great team!
Originally from Veracruz city, biologist with master's degree in regional rural development both of tof Puebla, where he lived Worked for 8 years at an Ethnobotanical Garden in Puebla, specializing in environmental education and ethnobotany.
Although he became fully involved in traditional medicine, his inclusion in ethnobotany has always been inclined toward the culinary area, which has since worked hand in hand with chefs, bartenders and various workers in the area. He participated in a joint publication in the Spanish culinary magazine "Saber y Sabor".
Julio developed a passion for mezcal and agave-based drinks. And in 2013 he started working with mezcaleros in the state of Oaxaca, and later Cofounder of the company "Mezcaleria Axolotl", having various manufacturing processes, but also began to experiment with the process called "Avocado", getting a successful beverage.
During his masters studies, he collaborated with mezcal producers in Puebla, documenting the history of distillate processes and identified 8 species and varieties of Agave for the manufacture of mezcal.